Soundtrack to Life
Exciting!
JellyGirl
has batoned me, so here goes...
Total volume of music files in my computer:
I HAVE NO IDEA. Really. I need someone to teach me how to check. Also, my ibook is 2 days old, so I'm still learning, OK?
The Last CDs I Bought:
Compilations - Happy Songs, I Love TV, The Alternative Album 2, 3 & 4, Acoustics and Jeff Buckley's Grace - All at once.
Have also just been given the very fabulous
Triple J Hottest 100 Vol. 12
featuring Franz Ferdinand, The Killers, The Streets, The Hives, NERD, etc, etc.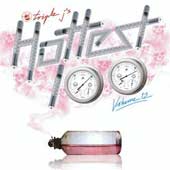 Tasty! Click above: more delicious Oz radio for your ears to eat.
The Song Playing Right Now:

Ben Folds - Adelaide
The Five Songs I Listen to A lot or Mean A Lot to Me (Or I Just Like):

Joni Mitchell - California
Janis Joplin - Me and Bobby McGee
Simon & Garfunkel - I Am a Rock
Coldplay - Shiver
The Beatles - A Day in a Life
*Gonna cheat and add 3 more:
Elvis - Suspicious Minds
10,000 Maniacs - These Are the Days
Jimmy Eat World - The Middle

I'm Passing the Baton to:
No one. Because I don't know anyone who reads this blog who cares for their blog to be made public. What can I say? I have shady friends. So shady ones, if you want to be batoned, make contact, lah.